Denver Senior Photographer | Erick Anderson | Haley Morgan Photography
Today I get to share with you – Erick Anderson's senior pictures! Erick is such a nice guy, we had a really fun time together… and I'm not just saying that. There's a pretty laughable story to be read about in this blog post so keep reading! I enjoy being a Denver Senior Photographer because seniors are seriously fun to be around! Senior sessions are right up my ally, I'm 23 years old so we usually have a good time!
Being a Denver Senior Photographer, most of my bookings are stemmed from referrals. That is amazing! I love that my clients refer me because it's a blessing to work with so many wonderful people. Erick was referred to me by Sadie Talevera, whom you've probably seen on my blog before! If you'd like to see my most recent session with Sadie, click HERE. 
I wouldn't say Erick was necessarily shy at the beginning of our session, but more or less unsure of what to expect 🙂 That's why, from the moment I meet someone who has never had professional photos taken before, I try to warm them up by cracking silly jokes or simply being goofy. Yes… I make a fool of myself to make others comfortable! Ha!
Erick was so great! He and I were chatting the entire time, and I got him to laugh quite a bit which you can see below!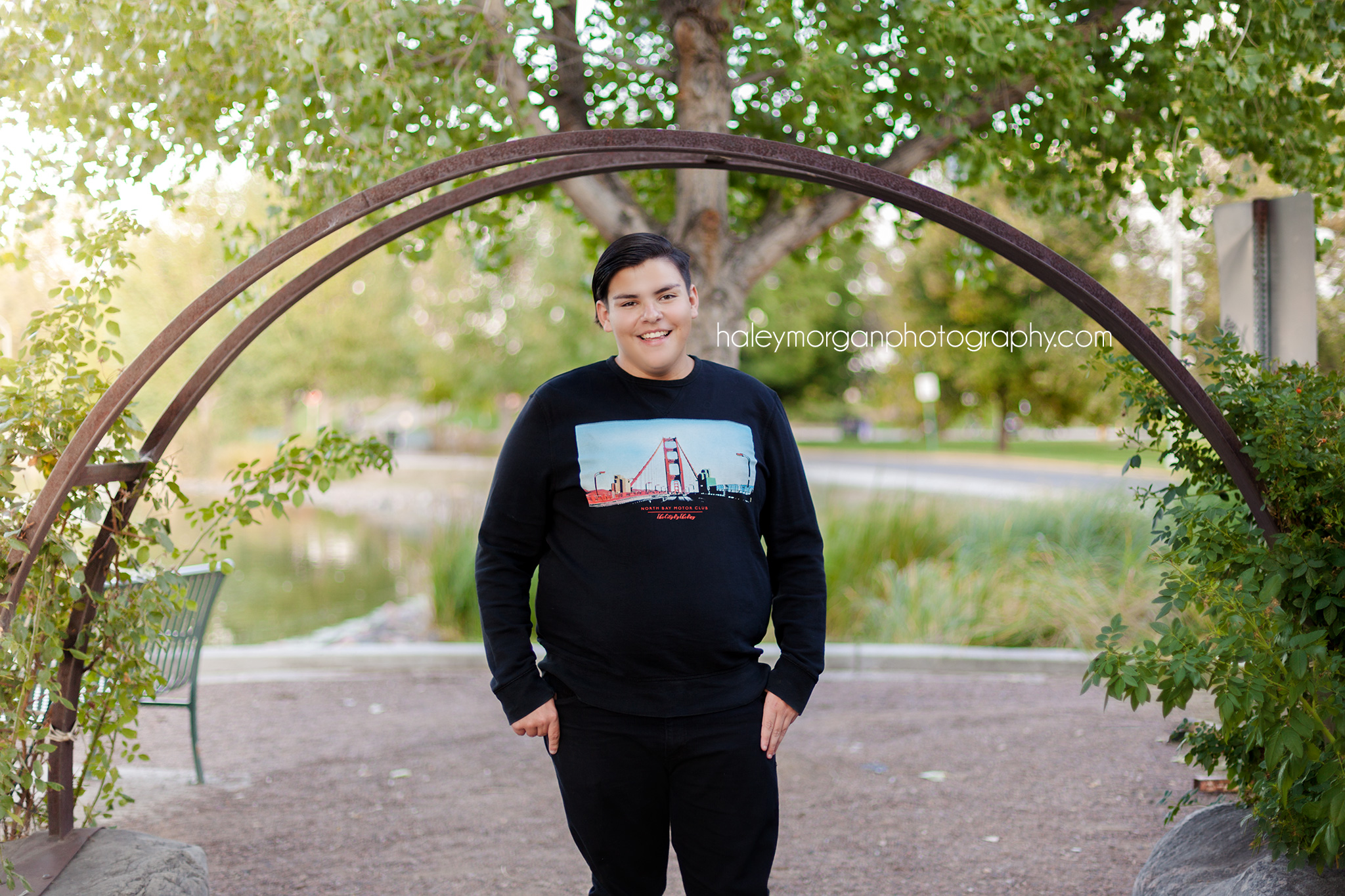 Okay so I know you're wondering what funny story I was talking about above. Well.. It's an embarrassing story for me BUT it's worth sharing. Okay so, up until now I would bring my GIANT iPhone 6 plus to photoshoots. Usually it would stay in my back pocket while I would shoot. Pretty normal for all of us, right?
While I was shooting, I wanted to get down really low for this particular photo, so I did what anyone would do and pulled my iPhone out of my pocket and sat it on the ground next me. I should mention that when I'm shooting, I get in the zone. For real. I rarely pay attention to anything around me because I'm so focused on the ideas running through my photographic mind.
About an hour goes by. Erick, his mother, and I are clear across the park at this point. Probably about half a mile away.
The sun has pretty much set, and it's getting really dark. Keep in mind, City Park has VERY FEW lights at night. If you're from the Denver area, then you know that places like this get a little sketchy after dark.
So.. after I take my last shot of Erick, we wrap it up for the night. I begin to pack up until I reached into my back pocket to grab my memory card pack. I noticed my pocket felt awfully BARE! Like something was missing. Something like a GIANT iPhone 6 Plus…
I didn't say anything for a second. My first thought was – oh my gosh should I wait until they leave to look for my phone?! They might think I'm SUPER unprofessional if I say I lost it. Out of a silent panic, I just stared at Erick with that shock face you get when you realize something is terribly wrong. You know, as if you just saw a ghost.
Erick stares back at me awkwardly and confused. I don't think I could breathe for a minute so I just blurted out "Where is my phone!?". As if anyone else is responsible for MY phone, Ha! Erick looks at me and says, "Umm, I don't know…"  I then asked Erick if he could help me retrace my steps. Erick and his mom started following me around City Park, retracing my steps. I really started to freak out when I couldn't for the life of me remember if I took my phone out of my pocket within the last hour.
Erick then had this brilliant idea to use the Find My iPhone app on his phone! Genius! So I logged into my account and what do you know.. my little iPhone pops up on the map. Out of relief, I was like "Thank GOD!"
So here we are walking fiercely back through the park, to all the places we stopped for photos. Then I noticed something strange… the iPhone bubble on the map was MOVING! Yea.. it was moving all over the place.. and it was moving fast! I showed Erick and yelled "Oh my gosh.. I think somebody stole my phone… Somebody STOLE my phone and they're running away with it!"
So the three of us start running… we are literally chasing the bubble on his map, in the dark. I'm sure anyone around that saw us thought, we were some group of crazy kids playing Pokemon Go. I'm not kidding, we were running through City Park trying to find someone who had my iPhone.
I slowed down for a second and mentioned to Erick and his mom, "Wait.. what are we suppose to do if we find this person? What do you say to someone who potentially stole something of yours? Am I suppose to say 'HEY STOP RIGHT THERE.. YOU HAVE SOMETHING OF MINE!'" I started to imagine how that could go south real quick. Luckily, my boyfriend was sitting in our car waiting for my session to end. So I ran to the car and told him that somebody stole my phone and we need to hunt this person down, quick! He grabs pepper spray and starts running across the park with us. (Yes, we brought pepper spray on this hunt for my iPhone – it got serious)
After about 45 minutes of searching for my iPhone, scoping out dumpsters and looking behind bushes, we finally turned the Find My iPhone alarm on so we could manage to  hear where it was coming from. Erick kept walking in circles because he said we were right on top of the bubble, lol.
Suddenly… I hear the alarm from a distance. I began to follow the sound cautiously. Guess where my iPhone was.. I kid you not, it was laying on the grass exactly where I laid it when I took THIS picture. Seriously???
None of us could figure out why the iPhone bubble was moving on the map – forcing all of us to run in circles. Need less to say, I think I provided quite the adventure for Erick and his mother. Best Senior Session Ever.
When it was time to part ways, I couldn't thank them enough for helping me. We laughed and hugged before leaving. I was so embarrassed at the end of it all but they reassured me that it was a fun time. Craziest night ever. I can promise you, I will never put my iPhone in my back pocket again. I went to Walmart that night and bought a little side purse to carry my iPhone and cards for photoshoots. I learned my lesson, the hard way! Haha.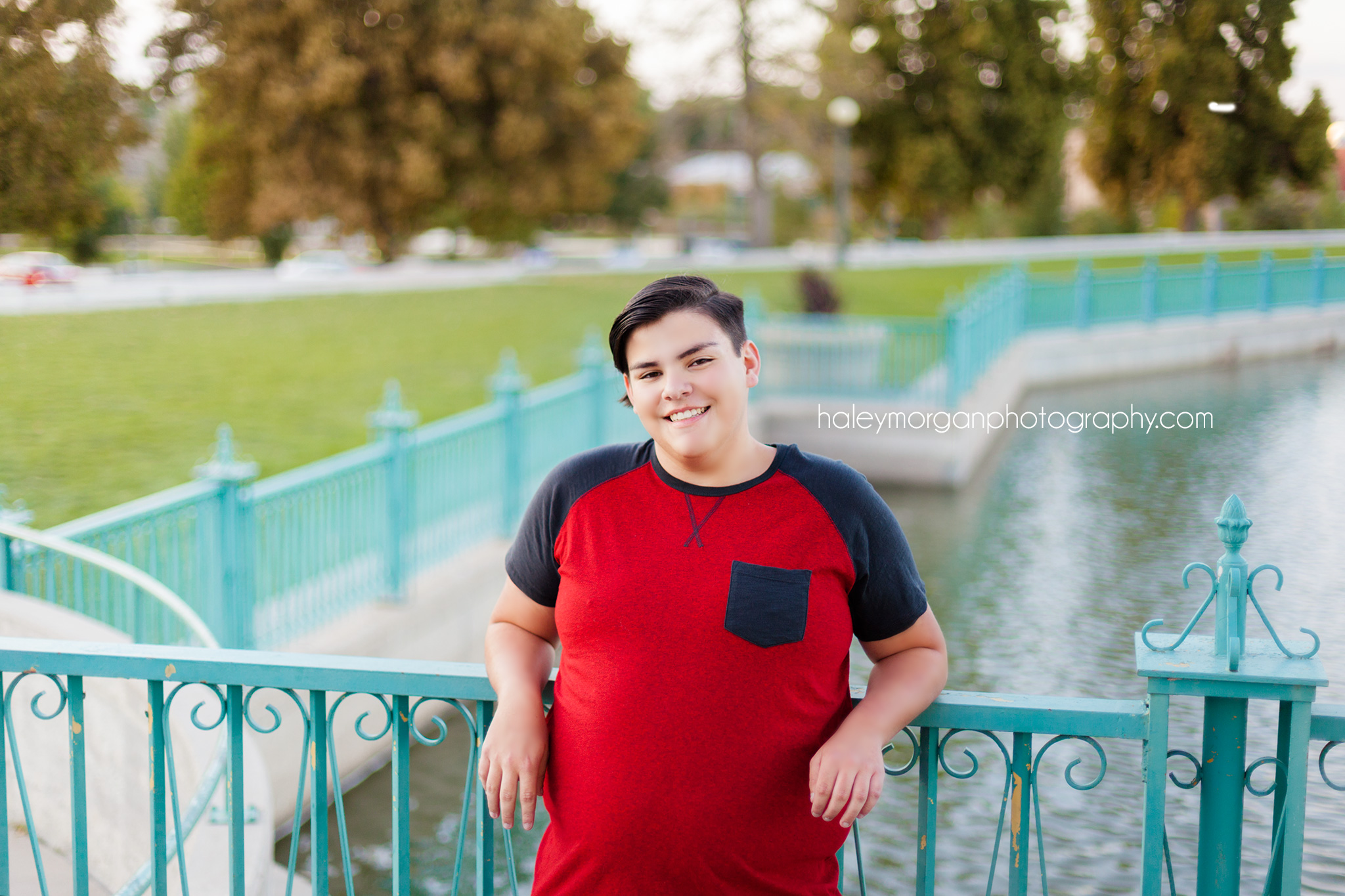 I'm so happy I had the chance to photograph Erick for his senior year. If you're looking for a Denver Senior Photographer, I'd love to hear from you. Just hit that contact button!
Denver Senior Photographer | Haley Morgan Photography | HaleyMorganPhotography@gmail.com